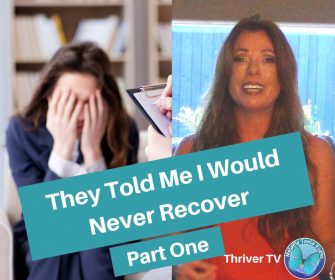 I got to thinking this week, even though I have shared details of my personal story on my website and in my Free Webinar, I know there are many of you who don't know the full details of my own experience.
Maybe you are one of those people who haven't heard my full story, and are wondering how I got to where I am today.
So, I thought what better way than to share the explicit details in a more imitate way than I ever have –  on Thriver TV.
Because … I know I am not alone. I am not the first person to have an incurable diagnosis that was supposed to be the end of my Life as I knew it … and …
I am also not the first person to have a life-changing epitome that was to change my model of the world forever – a change that meant giving up living from the outside in, to switch to living from the inside out.
Living the Quantum Way.
Like so many people who have been through such a liberating "ah-ha" it didn't come when everything was wonderful in my Life.
In fact, it came at the exact opposite time, when I was just about ready to give up and stop living because my life and health seemed devastated beyond repair.
And that is what today 's Thriver Tv episode is all about – the intimate sharing of the day my narcissistic abuse experience led to where it was always going to end up – a complete psychotic and adrenal breakdown.
I know there are so many of you out there, as a result of the terrible experience of narcissistic abuse, also feel like I did…
"I am too damaged, there is nothing left to go on with and there is no way I am going to get out of this nightmare, recover and re-build."
This is why it is my greatest wish that the sharing of my story can help inspire you and grant you hope …
(Visited 5,700 times, 2 visits today)
The following two tabs change content below.

Melanie Tonia Evans
is an international narcissistic abuse recovery expert. She is an author, radio host, and founder of Quanta Freedom Healing and The Narcissistic Abuse Recovery Program. Melanie's healing and teaching methods have liberated thousands of people from the effects of narcissistic abuse world-wide.

Latest posts by Melanie Tonia Evans (see all)