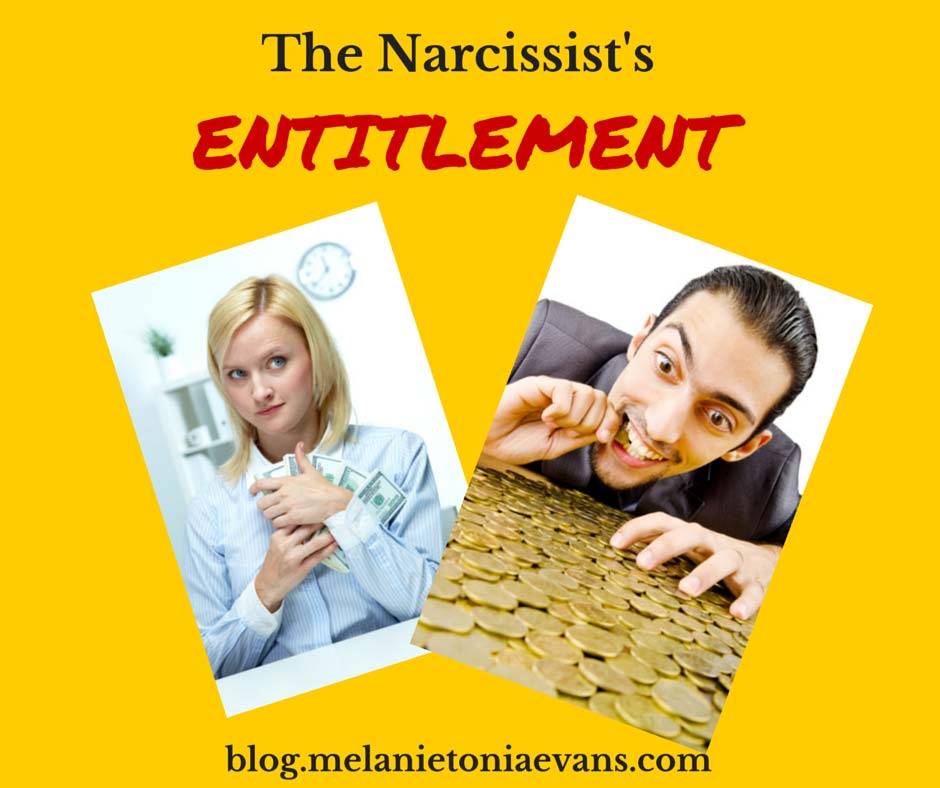 Anyone who has been in relationship with a narcissist knows that even the most "giving", "caring" Narcissist when entering into bouts of narcissistic entitlement can be totally unreasonable.
In fact it feels highly confusing, abusive and even dangerous with the behaviour and demands that come forth, and the actions and expectations that healthy adults simply don't do.
And it feels really "off", because it is coming from an extremely unhealthy interior.
The narcissistic may believe he / she is entitled to some type of preferred treatment from you or others.
This can range over a huge amount of topics.
The narcissist may take umbrage that someone else got the attention that he or she felt entitled to.
The narcissist may believe that as soon as he or she is available for you that you should drop everything and everyone and be available for them.
The narcissist may feel the entitlement that you don't use terms of endearment with anyone else other than the narcissist.
The narcissist may feel entitled to monitor and control who you do or don't speak to, and have access to your accounts and passwords.
The narcissist may feel entitled to your money, to have sex with you whenever he or she wants, or to make your day horrendous if the narcissist feels out of sorts.
The narcissist may feel entitled to act out in many numbers of ways; ways that he or she would never tolerate from anyone else.
The list of the entitlements that can be played out, naturally, are endless.
One of the most destructive aspects of narcissistic entitlement is that the narcissist can feel entitled to maliciously (or passively aggressively) play out revenge and hurt you, when he or she feels triggered and scorned by a perceived slight – real or otherwise.
The truth is "entitlement" is about "taking", and it's also about acting out behaviour without an understanding or duty of care regarding its impact on others.
Where Is Entitlement Coming From?
It's ironic that the people in the world with the least levels of entitlement or the urge to want, take, steal or manipulate to get stuff, are the ones who generally have the least. These people also tend to be peaceful and "full" emotionally.
It can be argued that these people simply "know" their lot in life, and have accepted it, and have no other choice … but maybe it is more than that.
There are very disadvantaged groups with very high crime rates, as well as ones with very low ones.
Years ago when I had a trip to Vanuatu I spoke to the people, and realised that their lives were modest, they shared, and the crime rate was virtually non-existent. Everyone's back yards and kitchen were congregating communal grounds.
As one man said to me "Why would we steal when what is yours is mine?"
I also met local people in South East Asia who were fulfilled, so at peace and inwardly solid because of the gratitude and love they felt for their life and each other – despite having very little.
This is what I believe …
Entitlement is emptiness, its ego – it's the dissatisfaction of never feeling "good enough" and believing "If I can just get more or control people and situations around me then I can feel better."
Naturally it's a bottomless pit – it's an addiction. All addictions are about trying to find outer self-medication to take away inner anxiety.
Entitlement (wanting more) doesn't produce lasting good feelings. The more entitlement that is employed, the more it generates the escalating feelings of not being worthy and not being good enough.
It's an unwholesome energy statement and that never generates anything good or lasting for the Inner Being.
Deservedness versus Entitlement
Deservedness and entitlement and are two different things.
Deservedness comes from a completely different emotional container than entitlement – it emanates from self-love, self-worth and self-acceptance.
It is the knowing that you are worthy simply because you exist; it's a feeling of gratitude, and being revered and loved by all of Existence and Life unconditionally.
This level of wholeness and inner peace does NOT cause you to go out in life with zero compassion, competitiveness and a "dog eat dog" "I win you lose" attitude.
In stark contrast, you value your whole self which is "all of it" … meaning the "big you" … which means that "others" are included as well in this definition of "self".
You feel and see others as you feel and see yourself (which is what human beings always do).
Therefore deservedness revers other people's worthiness, knowing that if we take from another we are only hurting ourselves.
Deservedness is the knowing that because we are loved and accepted by All Of Existence that we can create directly with Life – as Source flowing through us –and as such we can reach for our goals, have belief in our hearts and know that we are capable of unlimited, inspired creation for the collective good.
Entitlement by stark contrast, is feelings of not deserving, and therefore the application to life – to get what that person wants – comes from an unwholesome and fearful place.
This means force or manipulation with the environment is necessary because "on my own I don't have what it takes to create it."
Entitlement is a disconnection from God / Source / Life, one's self and others … it is the feelings of "I'm small", I'm separated" "I'm unloved".
The Spiritual Starvation of Entitlement
What happens when a child is put on a strict diet from a young age? Generally when they escape home they stuff themselves with foods of lower vibration … foods that don't have real nutrition.
And then no matter how much this person eats – they still feel miserably EMPTY.
What happens when a child doesn't receive love, trust, connection and acceptance? This child craves approval and attention later in life, and will chose (and generate) all sorts of low level, needy, instant, abusive and unhealthy connections.
No matter how many relationships this person gets into – they come back to the same place. They still feel emotionally EMPTY.
People act out entitlement because they did not receive the right "nutrition" on these topics in the first place.
The right "nutrition" was being brought up in a way that assisted the establishment of self-love and self-acceptance.
If people have unhealthy levels of wanting, demanding or having to have some thing, or a person's attention or specific treatment,  it is because they feel empty, unloved and not at peace inside themselves.
How Younger Life Sets Up Narcissists To Be Entitled
The following are some of the ways that narcissists became entitled.
The first is to have suffered severe deprivation, abuse, neglect and or punishment for wanting things (or to simply exist). Or to have things ripped away or destroyed as a form of punishment.
As I have written about in previous articles, narcissists at some point bury their inner self. There is too much inner pain and torment to bear, and the narcissist's imagination (often at a young age) conjures up an image of a "special self", a False Self, which is the fictitious character acting as a buffer between the narcissist's inner torment (which the narcissist is trying to divorce) and the narcissist's day to day emotional operations.
This False Self is a pathological self. Which by very definition means: it is not real, it has no real substance and is therefore not solid or resilient. The False Self is terminally insecure and needs all sorts of attention and grandeur in order to be maintained.
This False Self has to be held up as an image of extreme intelligence, attractiveness, specialness and significance. The feelings required to generate this image aren't real, they're manufactured, and they need a great deal of props to hold them up.
This is why entitlement is almost as necessary to the narcissist as breathing air.
The narcissist HAS to have significance.
The narcissist HAS to have attention.
The narcissist HAS to have "stuff" or "people" who create the narcissist as "superior".
The narcissist will manoeuvre in life to try to ensure this entitlement can be fulfilled – in order to stay emotionally alive – to keep from collapsing inwards to the black hole of emotional torment that has never been resolved.
The other way that narcissists become entitled is though their parents having very poor boundary function. This happens with parents who were too busy or self-absorbed in their own issues to care. These parents just said "Yes" to their child to keep the peace or to keep them out of their hair.
This child never learnt limits, or how to emotionally self-soothe and feel whole despite life's disappointments.
This also goes for the parents who were under the mistaken belief as a result of their own struggles, "If I give my children everything they need that they will have a better life."
Also single parents who suffered spouse abuse, may over-compensate because of their guilt.
Narcissistic entitlement is also caused by the parents who create the "golden child" as an extension of their own narcissistic self. This will be the child who is good at academics, sport, or who is exceptionally attractive. This child can be a source of supply for the narcissistic parent, and be groomed as "special", "unique" and "better than others" (including other siblings).
Naturally this is a powerful formula for narcissistic entitlement.
The narcissistic child suffers from poor boundary function, and has not learnt healthily the laws of actions and consequences. In fact this child may grow up believing that he or she is a law unto self. The entitled narcissist acts out "I want it and I want it now", as a form of self-medication rather than dealing with and processing emotional pain and emptiness healthily, which means evolving, developing and filling self.
The Projection of Entitlement
So many people have gone through the experiences of being accused by the narcissist of "wanting this", "wanting that", "being a Gold Digger", "you only did this to get that", and all the crazy things that you can see the narcissist doing so clearly.
It can become so devastating that incredible pathological and even criminal acts of entitlement can be twisted around, and you are the one smeared and discredited with them.
This bends people's non-narcissistic brains – until they realise that there is not a real, rational person inside the narcissist doing this stuff.
What you are really dealing with is the False Self, which doesn't take accountability regarding wrongdoing (its existence is precarious enough as it is) and it HAS to scapegoat in order to survive.
What's frightening and true is that the insane twisted allegations are real to the narcissist – once he or she lies purposefully to others and to self, the lie becomes real – the narcissist truly can't tell the difference between fact and fiction.
Such is the terrible product of extreme unconsciousness.
Even when you try to prove the facts – the narcissist will still cling to the lies.
Boundaries With Entitled Narcissists
Anyone who has experienced a narcissist knows how futile normal human boundaries are when the narcissist is acting out of entitlement.
Narcissists do not know the meaning of "No", and when faced with a firm "No", will seek to punish, discredit, one-up, play a nasty tit for tat, devalue and discard – or simply take by force, or lie and do it behind your back anyway.
That's after trying to charm in order to get their way, guilt you out of your boundary, twist facts to confuse you or threaten you with your biggest weak spot (such as fear of abandonment, fear of the narcissist being with someone else etc.) to make you agree with, and hand over what they believe they are entitled to.
Human reason and decency has no leg room here, it doesn't exist, because the narcissist feels incredibly justified in his or her entitlement. Truly, he or she thinks the demands are perfectly okay, necessary, fair, and the right compensation for what you have done to him or her – because the narcissist is the perpetual victim.
Such is the state of a pathological self (at this level), and why the only true boundary for anyone abused with this behaviour is: "I am getting away and disconnecting my life from you – PERIOD."
A Deep Look At Our Own Levels of Entitlement
Unless we were brought up in traditional spiritual societies, where the value of love, community, "Oneness" and sharing was espoused, we may struggle greatly with our own entitlement issues.
We may never consciously force people to hand over "stuff", or demand, or steal, or try to control people in the insane ways the narcissist does …
But … maybe if we are really honest with ourselves – we realise that when we have been unconscious, or felt empty, or insecure that we have acted out "entitlement".
Maybe we have felt entitled to hang on to a relationship because this person grants me "this", rather than doing what we know is the right thing (letting go), or maybe we have given to get something – because we feel entitled to what that person can offer us.
Things that we don't believe we can offer ourselves.
If we really understand ourselves we can see that co-dependency also carries twinges of entitlement, which is all a product of inner emptiness, and trying to rearrange things outside of self, rather than sorting out our insides and then approaching life from a more authentic emotional space.
When we really sift through the reasons why we may have been a match for narcissists, the understanding may arise from within that our own beliefs about "needing financial security" matched the high levels of entitlement the narcissist had for nice things.
This "gap" within ourselves, of not believing that we were could generate our security directly with Life, left us extremely vulnerable to be picked out and groomed by a highly "entitled" materialistic narcissist.
Maybe you are a man (or woman), and didn't feel like you were good enough, and felt that you needed more recognition by having an aesthetically attractive mate. If we are honest we realise is a very similar vibration to the high levels of entitlement and superficiality that many narcissistic women (and some men) display.
This "gap" within you of not believing that you alone could generate approval with Life, (starting with the foundation of approval for self) meant that you were susceptible to making choices based from your ego, to have an "attractive" ego boost with this partner, rather than generate and connect to true authentic love.
Entitlement Equals A Very Poor Ability to Speak Up For Needs
People who act out entitlement, not only have a poor understanding of boundaries, they also have very ineffective, non-existent or toxic communication skills.
People who feel entitled, assume.
This I believe is a classic form of entitlement – "You should just know. I shouldn't have to tell you."
Growing past egoic entitlement does not mean that we "go without", what it means is we are taking responsibility to create our own emotional health and fullness.
This means we stop expecting people to "just know". If we feel that our boundaries are being crossed, or we need to receive more from people in our life, we step up and become mature enough to honestly, authentically and lovingly ask for what we need – and be REAL when doing so.
This is an example of an entitled person "speaking up" as opposed to an evolving person …
Entitled person
"How would you like it if I went off all the time with no consideration for you, and left you high and dry? Too bad! I'm going to start looking after me from now on!"
The entitled person with poor maturity is generating a relationship mess by decreasing trust and love. This relationship can do nothing but fizzle into 'no connection", crack and end, or become toxic.
The entitled person in their current framework will only continue to generate toxic relationships, and sabotage any chance of them being healthy.
Evolving person
"I'm really missing you. Can we please reconnect and spend some time together? I'd really love that."
The evolving person is offering an incredible opportunity to generate an evolved relationship – one that grows into higher levels of authenticity, trust and mutual growth – namely REAL LOVE.
If the other person is not going to step up and join this higher level of vibration, the person asking for what they need, can keep trying authentically again, and then may move on. And they can do so with relationship health, self-integrity, love and honour – being much more likely to attract a higher vibration relationship next time.
I hope this article has granted you a deeper understanding of "entitlement", and also granted you food for thought, as to how to develop and grow yourself (the only person you can change, heal and develop) past any of your own struggles with "entitlement" in order to be a fuller, happier and freer person – and able to connect with and attract other people at this higher vibration.
I look forward to receiving and answering your comments and questions.
The following two tabs change content below.

Melanie Tonia Evans
is an international narcissistic abuse recovery expert. She is an author, radio host, and founder of Quanta Freedom Healing and The Narcissistic Abuse Recovery Program. Melanie's healing and teaching methods have liberated thousands of people from the effects of narcissistic abuse world-wide.

Latest posts by Melanie Tonia Evans (see all)