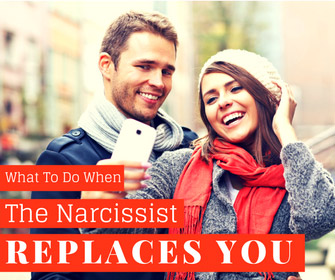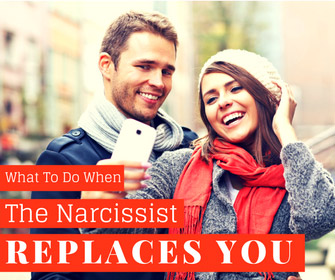 Is there any more soul crushing and punishing thing in our life than to be replaced with another love partner?
Possibly not.
And how horrifying is it to see the evidence of the narcissist and their new lover plastered all over social media enjoying a wonderful loved up time, whilst we can barely get out of bed, let alone function normally.
If we have been discarded and replaced in a heartbeat, and the narcissist is cruelly rubbing our nose in it, the trauma may be so horrific that we feel like we want to literally die.
And maybe this happened to you a while ago, and you are still hanging on to hope and now find yourself in the terrible position of maintaining a connection with the narcissist whilst he or she is with the new source of supply.
Either way you may be traumatised beyond measure – wondering why you aren't good enough or loveable enough anymore and the new source of supply is.
I promise you this though … that once you heal from this devastation not only will you NOT be triggered, devastated or traumatised anymore … you will be thrilled beyond measure that you are now out of the muck once and for all.
In this deep and very necessary dive into this episode (which is so important because the trauma from this is brutal) I share with you what is a healthy model of operation after breakups, what narcissists do that is severely unhealthy in breakups, and how we may unknowingly also make serious mistakes in our choices after breakups.
Then I take you through to the understanding of WHY being replaced hurts so much, what is really taking place in your Inner Being and how to stop the pain forever, as well as any chance of being a part of a cruel discard / replace situation ever again.
It is my greatest wish that you not only survive this trauma, but Thrive and connect with true, healthy and honourable love – which is your birthright – as well.
I promise you I know this trauma intimately. Years ago I heard about the narcissist with a younger gorgeous version who he was flaunting to my social circle and friends.
And then, whilst shopping, I ran into him and her!
The trauma was beyond horrific.
I know how you may be feeling, and I promise you with all my heart that on the other side of this agony there is so much to look forward to.
The following two tabs change content below.

Melanie Tonia Evans
is an international narcissistic abuse recovery expert. She is an author, radio host, and founder of Quanta Freedom Healing and The Narcissistic Abuse Recovery Program. Melanie's healing and teaching methods have liberated thousands of people from the effects of narcissistic abuse world-wide.

Latest posts by Melanie Tonia Evans (see all)