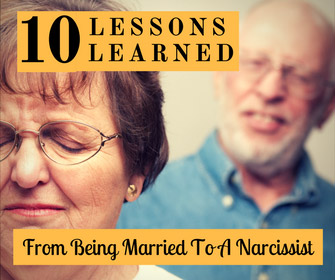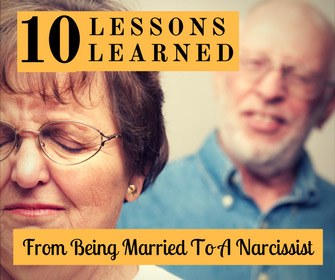 Being married to a narcissist taught me so much about myself, life and relationships that nothing other than being married to a narcissist could have taught me.
Little did I know that the greatest crash-course I could imagine to the evolution of myself would be the by-product of being married to a narcissist – forever cleaning up my previous false beliefs that hadn't been serving me.
I finally gave up being a victim and took on the Thriver Way of personal responsibility – self-partnering, finding and releasing my wounds and growing up my under-developed Inner Identity parts up.
That is when I broke free from the abuse and my True Life and happiness began.
1) The More You Try to Change Someone to be Happy the Unhappier You Become
My life when I was married to a narcissist used to be based on "conditional love". This was the model of living life from the outside in, instead of the inside out.
I used to believe that unless you – the person who is upsetting my life – changed then there was no hope of me being happy. Or feel safe, or fulfilled, or successful (the list went on and on).
After narcissistic abuse and healing these parts of myself, which used to assign other people as the "generator of myself", I realised that I have no power (or right) to change others to make myself happy.
Being with a narcissist also woke me up to the knowing that it just didn't work anyway.
That job, as an adult, is mine and mine alone and is done by making myself safe, fulfilled and happy and then choosing and generating a relationship that healthily matches that – and leaving alone those that don't have the resources to.
2) You Are a Target For Abuse When You Believe Your Life is Subject to Someone Else Providing it For You
Even though I was outwardly capable and confident, my real "normal" was that I doubted my ability to survive on my own. I always had this inner anxiety of feeling unsafe, insecure and incapable of backing myself, speaking up, having boundaries or being able to fully provide for myself.
And because it was my "normal" I didn't really understand that I was like this – I didn't know any other way to be.
That was until I experienced how much abuse I was willing to endure win my narcissistic marriage, rather than let go and lose what I believed was "my dream partner" and "my dream life" . I was terrified of being on my own with the fear of being empty, insecure and lost again; I really believed "without a man I am nothing."
So much of my necessary healing and development was to confront all of those parts of me and heal them up to the level of solidness to know that I was a Source of love, approval, security and survival to myself.
Then I learnt to love life, and become fully my own radiant, successful self … so that no longer would I make needy and dependent choices with people who abused me.
I also discovered that now I could be a whole person sharing life, instead of being someone trying to get a life via another.
3) Someone Who Doesn't Support Your Happiness is Not Your Life Partner
There were times when I was married to a narcissist that I pursued the things that made me happy – without expecting him to provide them for me. These times were met with great resistance, hostility and punishment.
This would often incite him into "tit for tat" behavior, retaliating by doing something to me that he knew would let me down or hurt me – simply because he was not able to be the center of attention if I took my attention elsewhere.
I would capitulate to try to appease him and minimise the punishment. I gave up my Identity in many areas of my life to try to save the marriage and myself from his rages – but really I saw him as more of my Source than myself. I thought if I lost him that I may not get someone to love me or provide me with a life again.
Now I know this: we have to be ourselves to a) be authentic and "full", and b) to be true love and be lovable and loving to others.
If we are with someone who does not love us being fulfilled, happy and "full" then they are not the right person to be having a relationship with.
4) If You Are Not Sure About Your Rights You Are Easily Talked Out of Them
Point blank, whilst being married to a narcissist I was wishy-washy about my rights, and as a result I was easily guilted out of wanting my own rights, my own interests and certain aspects of my own life.
He was able to convince me that his model of love and relationships was wiser, more reasonable and healthier than what mine was.
We repeat what we know.  I had come from a family where women used to gravitate around what their men decided, and had little independence or direction for themselves.
Because I was not shored up on what a healthy inter-dependent relationship looks like or how to be a healthy woman in my own body, as an equal partner, rather than a still broken inner child seeking a parent to control me … I didn't stand up.
Now I do know and what this means is having rights and healthy independence, including trust and space for my interests. This is totally the credo I live by and anything else would be not negotiable.
5) You Receive What You Tolerate
When I was married to a narcissist, I used to think I wasn't taking the abuse lying down. I would fight back, I would argue … I lectured … I prescribed.
I went over and over and over the fundamental core values that he should have had and was certainly not applying.
I felt like I was a parent trying to get a young child to act and operate decently.
In short, there was no way I thought I was tolerating this behavior by speaking up about it.
But I was still there. I was staying. I was tolerating it. And no matter what I said, declared or argued the message was, "I am staying, I accept this".
This meant I kept receiving the abuse.
He didn't have to change, nothing had to change – because that was my every day reality.
As it turned out he couldn't and was never going to change. What needed to change was me …  and now as a result of my own purposeful healing and evolution, I would not tolerate behavior like that ever again.
Because of this, I have graduated, it never again comes into my reality – only respect and decency does.
6) When You Make Excuses and Ignore Your Inner Voice – You Are Living a Lie
I used to think my life was about what I thought it should be or could be … yet all the time my emotional self was screaming in agony.
While being married to a narcissist my inner world was falling apart and I was losing the ability to function. Yet I thought if I could just do this or that, or if he could just stop doing this or that and do this or that instead, then everything could again be the version I believed it had to be.
Now as a lover of Quantum Realities, this I know point blank – our Inner Being which is connected to the enormous vibrational ecological system of Life doesn't get it wrong.
If we are in pain we are living in "Wrong Town". If we are durably at peace and inspired, we are on the right track.
If we are living a lie – not only does our Inner World fall apart – so does our Outer Life. We are being evicted from this path, to let go, heal ourselves, and then start connecting to a life that will genuinely resonate with our soul.
That is when we fill with lifeforce and glow.
7) You Can't Let Go Until You Heal What Was Needed to Heal
There were so many times when I believed I had it straight enough in my head to leave him and stay away.
Conceptually I knew that this marriage to a narcissist was destroying me on every level and the only way to survive was to leave.
Yet, something would always pull me back in. I would be triggered into such torment and pain that I would come up with excuses as to "why" I should accept his hoovering attempts, or try to reconnect myself.
And there were even times when I knew what I was making up as the excuses didn't hold weight, because things always returned to the same abusive cycles. Yet, I felt so lonely, empty and low and the urges were so strong to reconnect, that I would give in anyway.
The truth was I felt like a drug addict licking some crumbs of the ground, the urge was so compelling to keep connected to him. I had lost all respect for myself.
What I didn't know at the time was that these urges of "love" to reconnect had nothing to do with love. Rather, they were unhealed parts of myself hooked onto him, which were not going to stop being hooked until I turned inwards to heal and love them back to wholeness instead of trying to hold him responsible for healing them.
Of course he was not the healer of my wounds, he was the messenger of them.
Once I got the message, turned inwards and committed to being my own parent / savior / lover / healer then all urge to connect with him vanished for ever.
8) You Have to be Willing to Lose it All to Get it All
At first the thought of letting go of my marriage to a narcissist – losing what I had worked so hard to achieve all of my life and starting again was terrifying.
And I was losing the dream on so many levels – I would have to be alone again, single again, broke again. Effectively everything that I thought had been my life, including connections, business and friendships were now smashed to pieces.
As was my health.
I had already lost it all, there was really nothing else to lose. And I now know that was "perfect" in relation to the plan my soul and Life had for me.
When we are in the wrong life, on the wrong track, in the wrong beliefs and thinking "this or that" is what our life is really about whilst not listening to the truth of Inner Being – we lose.
And we are supposed to.
It is like the product of all of that gets swept away to make space for what is real to start organically be created in our life from the bottom up.
My life turned from the outside in focus to an inside out one. Starting with devoted service to my Inner Being, followed by devoted service to other people as well.
Finally, I connected to the life that really gratified my soul – the only one that would have.
To enter the path of my True Life, the old order had to crumble.
As a result of experiencing this, I now know I am prepared to lose anything that is not a soul truth and go empty fearlessly so that the new order can arrive.
And it does, and will continue to time and time again. This is the law of abundance, plenty and being in synch with Life when we are healed enough to flow with this perfect system of truth.
9) Nothing is More Important Than the Sanctity of Your Soul
Whilst I was being abused, as well as previous to being married to a narcissist if anyone had talked to me about the sanctity of my soul I would have had no idea what they were talking about.
Now I know how absolute Quantum Law is – so within, so without. And that unless we honor ourselves Life and others can't follow.
The old paradigms of life were this: treat others how you would like to be treated. But in Quantum Law terms this was "giving to get" … we hoped that by twisting ourselves into pretzels and granting everyone else what they wanted, that they would somehow love and respect us back.
That is exactly what I did whilst being narcissistically abused, and I used to righteously declare to him, "Look at everything I do for you!"
It all must start with self … honoring our authentic truth and being 100% personally responsible to have the thoughts, emotions and actions that self-generate Who We Are and then Life and others DO start matching that.
Then I discovered that I easily started to leave alone narcissistic individuals, without trying to make them honor my soul. I already honored my soul and I was no longer empty and needy or acting like a victim.
And … I was giving more to life and people than I had ever had the capacity to do previously – without conditions.
10) Conquering the Most Painful Time in Your Life is the Greatest Liberation of All
Narcissistic abuse was undoubtedly the most profound time of breakdown in my entire life.
Like many of us, I had gone through disappointment and even heartbreak and grave trauma previously – but nothing on the scale of narcissistic abuse.  This completely broken down every aspect of my former self.
Through this make or break experience, that called for more from me than I ever thought I was capable of, I midwifed an incredible breakthrough that forever changed my life for the better.
It's a little like childbirth (for us women). We may think after that, "Pain takes on a whole new meaning – that doesn't hurt". I believe it is the same for us who had have survived and then Thrived after narcissistic abuse.
When we step into a Thriver Life, fear is replaced with awe. We know every life opportunity is blessed because it brings growth and inspires us, when challenging, to release, heal, evolve and become a greater, more radiant version of self.
We stop hiding out from Life and and trying to control it, and instead we go with it and we relish it.
For the first time we are fully alive and we couldn't have made it here if we hadn't gone through the fast-track evolution experience of narcissistic abuse – arguably the greatest personal liberation journey of all.
I really hoped you enjoyed this insight into the 10 most valuable lessons I learned from being married to a narcissist. If you are still recovering from a toxic relationship and would like to learn exactly how to get to this state I am now living today, I have a FREE 3 Hour Online Workshop coming up very soon.
In this live workshop I will be taking you through the exact steps that I applied to my own recovery (and for thousands of people in this community) to truly heal for real from abuse.
You can register your spot for this FREE live event here.
The following two tabs change content below.

Melanie Tonia Evans
is an international narcissistic abuse recovery expert. She is an author, radio host, and founder of Quanta Freedom Healing and The Narcissistic Abuse Recovery Program. Melanie's healing and teaching methods have liberated thousands of people from the effects of narcissistic abuse world-wide.

Latest posts by Melanie Tonia Evans (see all)