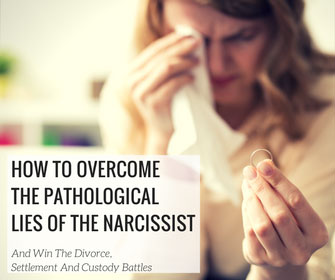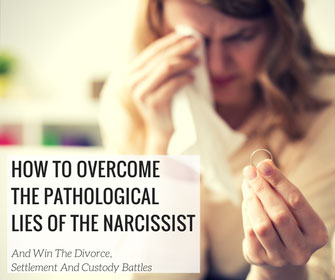 One thing is certain with narcissists; when you separate from them, and still have legal, property or custody to sort out …
They will pathologically lie.
As such, you can expect fabricated stories, twisted facts and downright dirty tactics.
The narcissist is very capable of telling solicitors, police and courthouses exactly whatever lies he or she wants to, in order to try to punish you, get the upper hand and win, project blame, create smear campaigns, play the victim as if he or she has been vilified (especially when things aren't going well for him or her), and of course disregard any personal accountability for his or her unacceptable behaviour.
When you see the blatant lies unravel under your nose, you will initially be shocked. People who enter into relationships with personality disordered individuals usually have a high level of integrity, and as such, you may feel incredibly shattered when you think, How on earth could I have ever been in a relationship with this person?
Your anguish is: How on earth does someone behave like THAT? Especially someone I was having a LOVE relationship with?
Your whole sense of moving on and forward may be pulled into the narcissistic muck – the pathological "stink," – because your emotions feel so polluted by the unfathomable lies and acts that this person creates.
What Else Would You Expect?
You know you have been subjected to the ridiculous conversations where the narcissist refused to remain topical, refused to answer questions, and would bring in absurd examples and allies to thrust down your throat with all the logic of an angry five-year-old.
You know that he or she has created untruths and smear campaigns against you in the past, and continually breaks his or her word, drags up information from the past (that he or she professed to be resolved with), and is never happy to live and reside in the now without projecting inner emptiness and torment onto you and making his or her inner demons your fault.
You know this person has a capacity to lie and falsify documentation and has told you how he or she has done this in the past to try to gain the upper hand, secure a deal or manipulate a situation.
You know that this person had no respect for integrity or karma at those times, and thought they were entitled to behave like this – regardless of committing fraud, breaking the law, or how it affected the integrity of an organisation or the reputation of other individuals.
You know this person is capable of faking situations, illnesses and injuries in order to try and gain sympathy or detract from the real issues at hand.
You know this person is paranoid about being lined up and attacked, and will resort to any lengths – criminal or pathological – to "defend" themselves, "one-up" the situation, and believe that the ends justifies the means.
So truly WHY should this be a surprise?
Narcissists are a false self – and therefore don't have a conscience when it comes to lying. Their life is a scripted illusion of the fantasy and high acclaim they like to believe they are living, which is completely different from how they truly feel about themselves on an inner level.
When the walls crumble between the illusion and the reality, the narcissist resorts to more scripted lies to try and offset his or her narcissist injury of being exposed to the world for what he or she really is – a person without real substance.
I promise you the ability to lie is a self-inbuilt survival mechanism. You see, narcissists don't believe the truth serves them. They don't believe they are lovable and acceptable as they are, and they carry immense shame for the way they have to operate. As such, more lies are needed to cover up the previous lies; otherwise the narcissist would have to face the truth of who they really are – and they will avoid that at all costs.
Realise It's Not Personal and There Is a Gift
The narcissist's lies are not personal – his or her lack of integrity and conscience has nothing to do with you, your life, and the creation of your truth.
What you are seeing is a gift; it is confirming to you the relief of knowing that you are getting this person out of your life. The relief of knowing there is no lost love with a person who has the ability to be a pathological liar, and this behaviour is something that decent people with mature and healthy emotional intelligence just don't do.
Do you know why people with moral compasses don't pathologically lie?
The answer is: because their conscience doesn't allow them to.
Narcissists do not have that level of inner emotional equipment.
Use this experience as a blessing to have even further confirmation that the narcissist is not your reality.
You know he or she is never to be trusted again. Remember, anyone who is capable of pathological lying and operating without a conscience is never going to be a suitable love partner.
Now, it is your job to let go of any personalised feelings you are suffering due to taking on the brunt of the narcissist's pathological lies.
I promise you it's not your stuff – it's the narcissist's rubbish and sickness – not yours.
So take your focus off any pain you perceive from what the narcissist is doing – and just focus calmly on being and walking your truth. Narcissists are sloppy; they are loose cannons – they have big mouths, push their egos forth and tell outrageous lies – they simply can't help themselves.
You see, narcissists act in horrendous ways, don't take accountability and try to ease their pathological shame by trying to prove they are right. Of course the excuses, smear campaigns and deflections are going to be lies – because the narcissist will try to line you up and accuse you of exactly what he or she is doing.
Often they will state these lies by text or email.
Record all of them.
When you have the documents and statements and witnesses to disprove the lies, do so with police, solicitors and judges calmly and clearly.
How to Bring the Narcissist's Lies to Light
In every case, of every person I have dealt with who is in combat with a narcissist's pathology – I have seen them win easily every time when:
1) All pain, personalisation and angst regarding the narcissist's lies are released. This allows you to shrug off the rubbish, disprove it easily and simply put forward the truth.
2) When you know it is not your job to make immature five-year-old adults with low emotional intelligence act decently, you have a clean space to simply act intelligently and rationally.
3) Record and document all of the narcissist's behaviour and communication. Have the dates, make the relevant connections and bring these to light with authorities factually and calmly. You will find that the authorities see the truth, the patterns and the pathologies extremely easily.
4) Follow through calmly, regardless of what the narcissist throws at you, knowing you are aligned with living integrity and truth and that you are integrity and truth. Don't worry about the outrageous allies and smear campaigns that the narcissist is trying to use against you. Know this firmly: The truth wins out – ALWAYS.
Truly, narcissistic lies are false power; they are as flimsy as the lack of reality holding them together. Truth is solid and real, and all of life supports you when you are in truth.
Darkness cannot operate within light, and when you know that and be that, you will see the narcissist's hold crumble.
Therefore, all you have to do is stand up in solid truth and be that calmly.
If you're not there (solid on the above 4 points), work on yourself first and don't tackle the narcissist when taking on the pain from the muck – because if you do – he or she will win.
If you found this article helpful, please join over 50,000 people who receive weekly guidance on how to not just survive … but thrive after narcissistic abuse. You will also receive 2 free ebooks which lay out the vital first steps you need to take in order to recover.
You can sign up for free here.
I would love to hear the comments from people who have detached, focused on being true to themselves, and have seen the narcissist's false power crumble …
Your insights will be of great benefit to those individuals who still need to go through police, settlements and custody matters, and as such, your post would be a lovely and inspirational contribution.

The following two tabs change content below.

Melanie Tonia Evans
is an international narcissistic abuse recovery expert. She is an author, radio host, and founder of Quanta Freedom Healing and The Narcissistic Abuse Recovery Program. Melanie's healing and teaching methods have liberated thousands of people from the effects of narcissistic abuse world-wide.

Latest posts by Melanie Tonia Evans (see all)