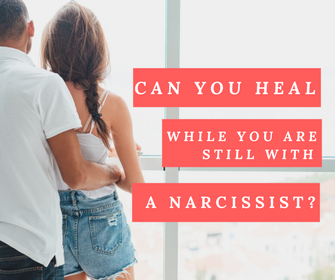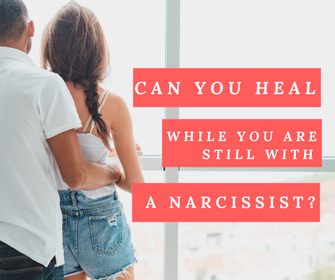 I know we all hear time and time again how you should just leave, create No Contact and THEN start healing. And … I do agree that No Contact and leaving before trying to heal is often the best way to recover.
Yet, maybe you just can't do that – because of children, or a combined business or you don't have anywhere to go yet.
Or maybe … and this reason is a big reason … because you know you just don't have the resources or the strength or the emotional capacity to do it yet. You simply may be too traumatised, addicted, hooked and or frightened to let go.
In narcissistic relationships we are not done until we are done …. and often we are only ready to leave when the trauma of staying becomes bigger than the trauma of leaving.
However, another way to leave is when we heal enough on the inside that we are just not emotionally enmeshed with him or her anymore, and we feel empowered and confident enough to go.
I tried to leave with narcissistic number one so many times in all the wrong ways, because I hadn't worked on myself, I was drastically unhealed, and I paid a horrible price for it time and time again.
It was traumatic beyond measure … I was in and out of courtrooms and psychologist appointments, I put intervention orders on, I was taking them off, and all and sundry lost faith in me completely.
I truly lost all faith in myself.
In stark contrast, because I was dedicated to the inner work with narcissist number two, I left cleanly and suffered minimum fallout, and since that time I have helped so many people who have been stuck with narcissists do the same.
If you are with a narcissist and don't know how you can or will leave and heal, I am going to help you in this video understand how absolutely you can do the work on yourself whilst still stuck with narcissist, as well as how you are able to set up the leaving and reigniting of your life in the most powerful and least stressful ways possible.
Please know if you are stuck that you can get through this. If you are able to take your time, breathe, start practicing your detachment and switch your focus from "You are hurting me" to "What part inside me was just triggered that I can now heal?", you will be amazed how quickly the power shifts back to you.
I so hope that this video has helped you, and if there's anything else I can help you with, please post in the comments below.
The following two tabs change content below.

Melanie Tonia Evans
is an international narcissistic abuse recovery expert. She is an author, radio host, and founder of Quanta Freedom Healing and The Narcissistic Abuse Recovery Program. Melanie's healing and teaching methods have liberated thousands of people from the effects of narcissistic abuse world-wide.

Latest posts by Melanie Tonia Evans (see all)