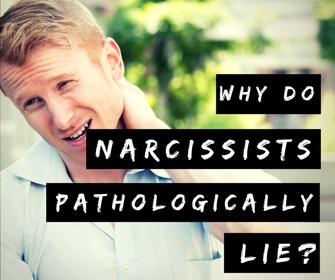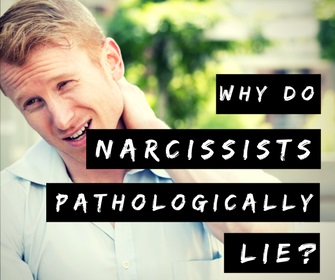 Why do narcissists lie? Why do they struggle to tell the truth? Why do they often lie even when there is no apparent reason for them to lie?
Of course we may think it is to manipulate and twist and turn people and abuse them – to deceive and purposefully confuse others and hurt them … but is it?
Is there something deeper going on as to why lying is such an ingrained personality disorder for narcissists?
When you experience the trauma of continual lies, you may begin to question everything including your own sanity. You don't know what is true or false anymore and things get so crazy that you start to question if the narcissist even knows the difference.

The times and ways a narcissist will lie are so vast that you could fill an encyclopedia with them.
One of the fastest ways to experience a narcissist's lies is to try to make them accountable for a wrongdoing. They will make up excuses, create allies and fabrications to support their version of things. They will twist and turn facts and shift blame and come up with false counter-accusations.
Lying destroys relationships … and so many of us hate being lied to.
So … how do you reconcile that not only you were lied to, but also the entire relationship that you had with a narcissist was a lie? How do you heal and recover from that?
In this Thriver TV episode, not only will I help you understand why the narcissist lies and how it wasn't personal, but also how you can heal and resurrect your life and the way you live to an incredible authenticity and the generation of consistent and wholesome truths.
Please know I understand how traumatising, mind-bending and gut-wrenching it is when we are lied to continually by a narcissist. I was, once upon a time, totally confused, sucked in and manipulated until I learned what I am sharing with you in this video today!
It is my greatest wish that this Thriver Tv episode grants you hope and a way through from the devastation of someone else's lies.
If there is anything else you would like to know about this topic, please post a comment below and I would love to help you.
The following two tabs change content below.

Melanie Tonia Evans
is an international narcissistic abuse recovery expert. She is an author, radio host, and founder of Quanta Freedom Healing and The Narcissistic Abuse Recovery Program. Melanie's healing and teaching methods have liberated thousands of people from the effects of narcissistic abuse world-wide.

Latest posts by Melanie Tonia Evans (see all)