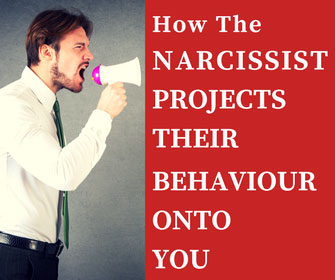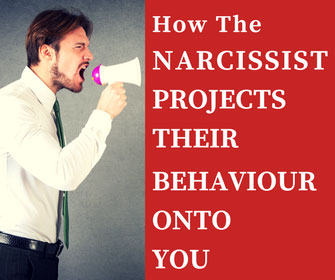 One of the most painful parts about a relationship with a narcissist is the accusations and 'labels' the narcissist puts on you.
During your relationship with the narcissist you were probably accused of doing and being all sorts of things that you know at a logical level you certainly wouldn't do.
Such as:
Being unfaithful, a pathological liar, untrustworthy, unscrupulous, a gold-digger, mentally unstable, attention-seeking, a horrible parent, a child-abuser, horrible, unloving, selfish ('It is all about you'), 'You don't treat me like an equal', or that you are the narcissist…etc
Maybe you had a narcissistic parent and you were told that you weren't good enough, you were selfish and a bad person.
Today I want to explain how when a narcissist accuses you of such atrocities he/she is actually speaking to a MIRROR.
I hope by explaining how the narcissist projects his/her behaviour onto you, you can let go of the feelings of unworthiness that the narcissist may have led you to believe about yourself.
The Idealising Phase
In regard to love relationships – in many cases, when you met the narcissist, he or she could not seem happier with you. You were put on a pedestal, and were told all the reasons why you were so different from all the others. The narcissist 'loved' everything about you.
The narcissist believed you were the person who was going to be his or her saviour. You were the person who was going to magically feed his or her False Self all the right stuff, and be the person who would keep the narcissist separated from his or her damaged inner self.
The inner damaged self, which you did not know or want to believe existed.  
Of course you weren't the narcissist's saviour – no-one can be.
The narcissist (like everyone) was never going to feel genuinely valued, safe, approved of and loved by anyone but him or herself.
Because authentic feelings about 'self' have to always come from 'self'.
The Devaluing Phase
Sooner or later the narcissist's False Self is not appeased enough. The narcissist will perceive something you did as 'wrong' – which means not approving of him or her enough, or because you 'critiqued' 'questioned' or 'didn't agree' with him or her in some way.
Then the mask (False Self) cracks, and the monstrous unhealed wounds of the narcissist appear in order to punish you for not complying with the constructed script of the narcissist's False Self.
At this point the 'adoring' person you believed was in love with you becomes your worst enemy and nightmare – saying or doing almost anything possible to maliciously hurt you.
Understandably you will be shocked, reeling and incredibly distraught because the behaviour the narcissist employs is incredibly pathological, cruel, without remorse and can be assessed as inhumane.
You will call it 'that' and confront the narcissist with "What on earth have you just done, and HOW on earth could you do that?"
Please KNOW people who have enough RESOURCES OF SELF will leave the narcissist at this point – no matter how much it hurts to.
I want you to remember this point…it's important, and I will come back to this.
The Dichotomies of the Narcissist
For all the narcissist's 'confidence' and 'acclaim' and statements of 'specialness' about him or herself – the narcissist has an very poorly defined Inner Self, and is constantly plagued by feelings of inadequacy and not being good enough.
The narcissists tries to be 'perfect', 'special' 'wealthy' supportive' 'attractive' 'an incredible lover' or 'wonderful' or whatever it takes to win your approval (in order to feed and maintain his or her False Self), and then acts incredibly imperfectly when he or she does not get the payoff (you mirroring back sufficiently) to maintain feeling 'perfect', 'special' 'wealthy' 'attractive' or 'wonderful'.
It is the same False Self (ego) which tries so hard to be approved of, which when not being sustained by 'the outside' constantly (a necessity because it is not self-sustaining) becomes pathological and vengeful and behaves atrociously.
This is what a monstrous ego (pain, fear and emptiness) does.
The larger the ego the more pronounced the backlash.
The narcissist's horrendous behaviour, when it appears, of course does not fit the narcissist's False Self creation of 'perfection'.
The imperfect (unhealed) parts of the narcissist have been disowned by him or her, and therefore must be assigned elsewhere – and quickly – so that the narcissist does not have to face his or her worst fears – there is something really wrong with me and I am not the 'incredible being' I am pretending to be.
The projections erupt…
The harder you try to make the narcissist accountable for his or her atrocious behaviour the more pronounced the projections.
What is Narcissistic Projection?
All narcissist's project their unhealed parts – because they simply can't and won't take responsibility for them.
Narcissists don't like the fact they are empty, needy for approval, pathologically envious, and have horrible thoughts about themselves and other people. They detest their own feelings of vulnerability, deep shame and unworthiness.
When the 'mask' (False Self) can't keep the cover up holding these feelings submerged (which it can't indefinitely) these broken parts rush into the narcissist's consciousness, and they feel horrendous for the narcissist.
Narcissistic injury feels like emotional annihilation to the narcissist. It is unthinkable, unbearable and will be avoided at all costs.
Non personality-disordered people do not have this issue. They are capable of accepting being 'wrong' and 'imperfect' and realise it is a part of the normal human experience. 'Normal' people may not necessary like it – but they can accept it and take responsibility for it.
Naturally when you confront the narcissist about his or her disgusting behaviour you create the same situation – 'Here are your broken disowned parts'.
The narcissist's False Self then goes into automatic deflection and projection. Due to the narcissist's self-disgust with his or her unhealed/ disowned parts, this is a necessary emotional survival mechanism.
He ­­or she will inevitably assign these parts on to you.
This ensures two things:
1) You are punished for challenging the False Self, and
2) You become the atrocious person who has committed all of these unacceptable things (or at the very least have been the cause of them).
Narcissistic parents project their unhealed parts on to their children, narcissistic bosses do it to their employees, and narcissists do it to their love partners.
You do not have to 'critique' a narcissist for it to happen – he or she may just be having a painful internal moment – which for a narcissist is regular.
Unattended unhealed parts scream out painfully for attention – that's just what they do.
The narcissist will use any method available to project. This means fabricating, distorting, assigning significance to, or exaggerating what you said or did as 'evidence', and / or quoting third party allies which can also be fabricated.
You will be astounded after stating the facts and gaining some sort of sensibility (forcing the narcissist after a mammoth battle to admit the 'truth' regarding these fabrications) when at a later date the narcissist will deny all of that and default back to his or her fabricated version of projection.
You will also be amazed at how the narcissist lies about an 'event' that you were present to and upholds it as absolute truth regardless of the fact you were there!
I promise you this: Narcissists actually believes their fabricated versions. You need to understand that the narcissist's thinking and brain-wiring is so disordered that when he or she uses a deflection to avoid his or her disowned parts – this becomes real to the narcissist.
When you understand all of this, you can clearly see that the narcissist is speaking to a mirror.
The narcissist's accusations about your character and what you 'do' are exactly what the narcissist feels internally about him or herself and how he or she operates in the world.
Who is Going to Accept the Projections?
In relation to yourself this is the really important part.
Anyone who has ever lived through the projections of a narcissist knows the insanity, the crazy-making, the intense struggle to try to prove yourself as innocent, the incredible twists and turns that the narcissist will perform to avoid accountability, and how any accountability or 'safety' gained from these tussels can fly out the window at a moment's notice and return to the pathological versions.
You will be astounded, heartbroken, and dismayed how these fabricated versions are worth so much more to the narcissist then you, maintaining a healthy relationship with you, or even valuing any relationship at all with you.
You will be shocked and devastated at how the narcissist will forego all future shared 'dreams', all security created together (including family), and is so capable of procuring other sources of narcissistic supply at a moment's notice  –  JUST to remain non-accountable and keep blaming you.
You feel like you're going insane trying to get this person to JUST act like a decent and 'normal' human being.
Surely it's NOT that hard!
The problem is this – you believe the narcissist can be 'normal' and is wired like a 'normal' human being.
You need to accept this is not the case.
When behaviour has reached the level of pathological lying, malicious acts of vengeance, smearing and non-accountability (which of course includes projection) you are dealing with NPD point blank.
This person is not brain-wired 'normally' and is not going to change.
The 'love' you thought was real or possible is not. It didn't and doesn't exist. What was going on in the name of 'love' is this: you were the vehicle to feed the narcissist's False Self to avoid his or her internal damage.
The relationship was never going to be healthy or work…
This relationship was never about you – it was always firmly all about the narcissist – regardless of how much you believed the narcissist was loving and caring at times. 
We need to understand why we have accepted these projections and did not understood that this was not our stuff – it was the narcissist's damaged parts that were hurled at us.
Accepting Narcissistic Projections From Parents
If we had a narcissistic parent, as a child we were defenceless and certainly did not have an established sense of self. It was impossible to have boundaries and define 'this stuff isn't mine'.
All children feel at fault when their parents project on to them.
The statements: You're bad, stupid, selfish, not good enough etc are easily absorbed by children as truth. The most empathetic / sensitive children tend to internalise these wounds and deep shame, 'I'll try harder to make you love and accept me', and will strive to not do the wrong thing (adopt high levels of conscience).
This is the model of the co-dependent.
The less empathetic children disown their pain and deep shame, pit themselves against the world as 'I'm never going to allow myself to be vulnerable, get hurt  or trust again' and create a False Self through which to navigate their life (adopt amoral behaviour).
This is the model of the narcissist.
We can understand that children do not have an established self as children. They are highly dependent and vulnerable.
A child can't say "Mum / Dad, you are a narcissist, you're not healthy and I don't want anything more to do with this – I'm leaving!"
Accepting Narcissistic Projections at Work
Within a workplace an employee may have security fears, and be scared of losing their position. This can make them extremely vulnerable to a narcissist boss. The employee may also be aware of the vengeance that could occur if they stand up to the boss or report him or her to a higher authority. He or she may also realise this person has the capacity to fabricate information in order to punish and project blame.
Unless this employee believes strongly in themself enough to lay boundaries, walk and be truth firmly without being intimidated, and / or knows they can create other revenue options elsewhere – he or she will be at risk or being narcissistically abused by a boss.
It comes down to his or her sense of self.
Accepting Narcissistic Projections in a Relationship
In regard to love relationships, the narcissistic partner positions him or herself to create your dependency. He or she will erode what sense of self you may have (which wasn't truly firm otherwise a narcissist could not be in your life) and will create you as reliant on him or her as possible –emotionally, mentally, physically, and / or financially.
The narcissist frenetically needs to be the centre of your universe. This creates enmeshment in order to extract narcissistic supply for you, and ensures you are hooked enough to stick around as the dumpmaster for his or her disowned inner parts (projections).
The idealising phase sets up this dynamic.
You know that when you accepted the projections (fighting back also means 'accepting' them), pleaded and argued for justice and accountability, justified yourself and were involved in conversations and bouts that made your head spin – you felt helpless, devastated and incredibly unsafe.
The truth is: You felt as powerless and as vulnerable as a child. You may have suffered infantile regression which means you felt terrified of abandonment and rejection and acted from this terror accordingly. You clung despite the horrific levels of abuse.
Narcissists play that card to control you – they threaten rejection, abandonment and/ or the replacing of you.
And if you are not complying to the False Self – the narcissist will excute these threats. 
These are all common narcissistic tactics.
Your Essential Sense of Self
Now we come back to the point I wrote earlier…
Please KNOW people who have enough RESOURCES OF SELF will leave the narcissist at this point (when atrocious, amoral, vengeful behaviour erupts) – no matter how much it hurts to.
This is very true – I personally know of many people who walked away when this happened.
When I had a conversation with a highly respected overseas counsellor not long ago – her opinion was: it is only a small percentage of men or women who will stay when confronted with point blank atrocious damaging behaviour.
To get your recovery started you must take responsibility – that you did stay, and you continued to experience high levels of abuse rather than leaving and honouring yourself.
For those of you who have been a part of the 30 Days to Empowered Self, and have done the questionnaire on Week 2 you will understand there are many ways that we may be playing out handing our power over and not being a solid source to ourself.
My definition of being co-dependent  is: Trying to 'gain self from the outside' rather than being your own authentic power source within yourself.
I believe that everyone to varying degrees suffers from co-dependency – our entire world was modelled this way – and if your levels of co-dependency are substantial enough it creates you as an individual who is very susceptible to attracting and sustaining narcissistic abuse.
When you don't have enough sense of self, you will inevitably assign someone else to be that 'source' for you.
The narcissist, because you were susceptible, was able to purposefully co-create this dependency with you.
When we don't have enough sense of self, we are reliant on approval.
We need the person we have assigned as 'our source of self' to like us, believe in us, and we are devastated and feel our entire survival is threatened if they don't believe we are a good person, if they accuse us of wrongdoings and character traits that we would not even consider doing or being – and we cling for clemency and justice.
We believe that if we lose this person in our life we will not be able to emotionally, mentally and / or physically survive.
If we believe our 'loveableness', our worth, our value, our approval or our life is dependent on another person we are susceptible.
If we have these inner deficiencies we exactly mirror the lack of the narcissist's inner 'self' resources.
The truth is: We are a match.
It's not until we create a solid sense of self that we CAN believe in, validate and back ourself.
Then we can easily understand, state and walk away, knowing 'That is all YOUR stuff' and it is Not ME Or My Reality!'
In order to experience a healthy 'self', love and life we must become this inner solidness, and only then we can share it healthily with another.
I explain exactly how you can become this inner solidness to yourself and become a healthy independent being in the 30 Days To Empowered Self.
(Please note: It is really important to have worked on your abuse recovery before doing the 30 Days to Empowered Self).
When we do let go and heal  – we see and accept what was really playing out.
We realise that 'the all-powerful narcissist' is actually 'empty' a 'no-self', powerless, and faux and is not at all desirable in our life and in our truth.
If you found this article helpful please join over 30,000 people who receive weekly guidance on how to not just survive… but thrive after narcissistic abuse. You will also receive 2 free ebooks which lay out the vital first steps you need to take in order to recover.
You can sign up for free here.
I hope this article has helped you get clear on what is really going on with narcissistic projection, and I would love to hear your thoughts.

(Visited 193,067 times, 38 visits today)
The following two tabs change content below.

Melanie Tonia Evans
is an international narcissistic abuse recovery expert. She is an author, radio host, and founder of Quanta Freedom Healing and The Narcissistic Abuse Recovery Program. Melanie's healing and teaching methods have liberated thousands of people from the effects of narcissistic abuse world-wide.

Latest posts by Melanie Tonia Evans (see all)