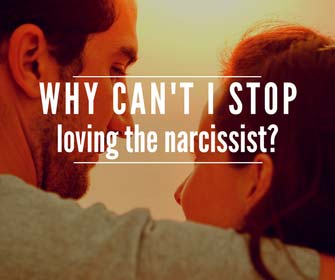 It's painful beyond measure.
When someone who treats us WORSE than we could imagine … who is threatening our very mental and emotional fibre and everything we stand for … and is being someone who we SHOULDN'T love …
Just happens to be THE person we can't stop loving.
This happens with narcissists, so often that it is not just some random tale of painful mismatched love.
There is actually so much more to it.
This Thriver TV episode, I believe, is very necessary … because one of the deadliest (if not THE deadliest) hooks of narcissistic abuse is when we feel we can't stop loving the person who is abusing us.
Because, that means we may never break away, and even if we do get away physically we could stay emotionally attached for years, decades or our entire life and never feel whole, free and happy again.
I used to think that was my LOT in Life too …
That was until I discovered the truth about WHAT this version of love really is, and how the love I had displaced into him and the terrible trauma of receiving the exact opposite, was my Higher Calling to find and heal what I had never found and healed previously.
(In fact I hadn't even known about it!)
And when I was able to awaken, turn inwards and address this, there was NO more feelings of the horrible unrequited, traumatic love I had suffered whilst hanging on.
In fact, there was no feelings at all … except massive relief and the freedom to love myself, life and others in healthy ways.
Not only was this wonderful – it literally saved my life … and I know it can do the same for you. If you are still suffering from being unable to stop loving the narcissist, then this Thriver TV episode is definitely for you.
This topic is so close to my heart because I intimately know just how tormenting and heartbreaking it is to not be able to let go of the person who is hurting you, and I am very passionate about helping you break free from it.
I'd love to help support you further by answering your comments and questions that you post below.
The following two tabs change content below.

Melanie Tonia Evans
is an international narcissistic abuse recovery expert. She is an author, radio host, and founder of Quanta Freedom Healing and The Narcissistic Abuse Recovery Program. Melanie's healing and teaching methods have liberated thousands of people from the effects of narcissistic abuse world-wide.

Latest posts by Melanie Tonia Evans (see all)