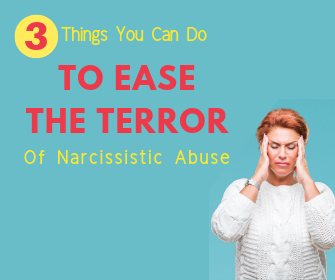 I know the terror of narcissistic abuse – just like I know you do.
Like being a deer in the headlights, paralysed, not knowing where to turn, or maybe even what is up or down.
Very few life circumstances can make us feel as terrorised as when a narcissist strikes out to hurt us.
It's beyond excruciating. However, we aren't powerless.
There are three key things that you can start doing right now to get relief and access calm, solution and even miracle with what you have been trying, but fruitlessly, to deal with. And it's my greatest mission to show you how in today's Thriver TV episode.
Video Transcript
Today is the day I want to address the terror.
That horror of narcissistic abuse, when the narcissist does unspeakable things, where your stomach churns and ice runs through your veins as you realise that this person is capable of God knows what…and you have no idea what terrible thing is going to happen next.
I know you know at this stage of the abuse it feels like you have been hit by a bomb, and it's almost a given you will be suffering regular panic attacks and can't think straight.
Because of this, in today's Thriver TV I want to help you not only survive the terror but emerge healthy, sane and victorious with my THREE TOP TIPS.
Now, before we get started, if you haven't yet subscribed to my channel please do. And if you like this video, please make sure you hit the like button.
Okay, let's get right into it…
Number 1 – Anchor Into Knowing the Narcissist Has No TRUE Power To Hurt You
This can be so hard to comprehend at first because it seems that the narcissist is all powerful and can crush you, hurt you and rip your life apart with their deceptions, actions and minions. And you may very well be experiencing exactly that right now.
However, there is a deeper truth going on – narcissists are False Selves who cannot generate their own power. They are only able to operate by triggering our primal survival programs – things like the fear of abandonment, annihilation, not being able to survive – and then using this energy against us as metaphoric bullets to shoot us with.
Narcissistic abuse is a spiritual, psychic, energetic phenomenon. What we believe to be the surface system of life doesn't apply here. In fact, narcissistic abuse and its effects take us into a deep dive into the Quantum World, showing us the reality of our unconscious, unhealed parts that narcissists unearth, expose and attack with full ferocity.
In the normal cognitive understanding we have of life we believe, 'This is happening to me from this outside source and I have to negate, change or stop what they are doing in order to be safe.'
Narcissists, however, are 'smoke and mirrors'. There is NO actual person there. This 'disorder' (narcissism) is powered up inside the narcissist by your primal and survival terrors. The narcissist is only a catalyst, feeding off your fear in order to line you up and project onto you his or her inner tormented parts. If this person wasn't in your life doing this, another one would have presented themselves – because the true, sole (and soul) purpose of a narcissist and narcissistic abuse is to free you from your primal terrors so that you can reintegrate as your True Self.
Here is the rub: when our primal and survival terrors no longer exist, the narcissist is fed no energy psychically from you to be able to continue. Without narcissistic supply – your emotional energy – their actions against you fall flat and they are no longer possible. It is like fearlessly looking at a dragon roaring and then seeing that under the mirage there is really a broken, disordered, powerless child, who has no desire to take responsibility for his or her wounds and is firmly in the business of trying to destroy everyone else by using their own fear and pain against them.
When you understand this and do all you can to let go of your internal fear and pain, creating your solid and calm Inner Being instead, no matter what anyone else is or isn't doing, you will see how powerless narcissists really are.
I promise you I have known exactly what it is like to be lined up and brutalised by a hugely vindictive, cunning narcissist, and to be completely traumatised by what he was doing. When I stopped trying to change or end what he was doing, and rather turned inwards to release my fears, wounds and gaps that were being pummelled by his actions, then incredible things happened. All of a sudden I had the inspirational answers on the correct action to take, people came to my side aiding me in generating more calmness, solidness, safety and the resurrecting of my life. His attempts to dismantle and punish me fell over.
This happened because of my shifted Beingness, just as it does for all the Thrivers in this Community who have worked on shifting their Beingness.
I know that this is one of the hardest things to accept with narcissistic abuse – that no amount of action will help. Recall what happened when you did act and try to stop the terror of what was happening when you were in extreme terror. You know – it didn't work.
When we embrace and start working with narcissistic abuse at the Quantum Level, we know it is a soul war and we know exactly how to start winning – by working on our deep Inner Being, emancipating our soul from fear and pain. And from that place all else follows.
Number 2 – Let Go
To get up and out of narcissistic abuse and into our True Self and True Life there is a calling for a Quantum Soul leap. Some people take their time to get it (kicking and screaming) and others let go and just do it. Please know I was firmly in the first category!
This Quantum Leap is LETTING GO!
Letting Go is massive and it really is the number ONE thing that we humans struggle to do. When we are in the midst of the absolute terror of narcissistic abuse, realising the betrayals, how this person has been able to discard and replace us as if we never existed – as well as maliciously tried to annihilate us; how this person has no care towards us and the people and things we care about; and of course, also, smashed or stole so much of the dreams that we thought our life would be – the terror and pain is massive.
We have invested so much and we have probably lost so much, including resources, years and health. We may have believed that the investment was far too great to walk away from, and yet the harder we hang on the more we lose ourselves with this sinking ship.
Things keep getting WORSE; they don't and won't improve.
The reason why this happens is because our soul, Source and all of Life is working FOR us, hitting us as hard as it needs to LET GO; to get out of Wrong Town where we compromised our True Self, our values and our highest and best self-generative lives, and got attached to False Selves.
This is not the calling we are here for. This is not a position where we can be our True Selves, connected to real genuine love for ourselves, life and others, and generating our true soul calling and highest aspirations and soul dharmas.
Our soul and Source is always generating the experiences that will bring us home, if we stop resisting and clinging to 'what we know' that isn't serving us, out of fear. When we let go, we come home to ourselves and then self-partner and align directly with the only life that was ever going to truly gratify us – the one where we are Being our True Self and True Life.
Another way to understand letting go is 'acceptance'. This was huge for me, as I know it has been for so many of you. I was firmly embedded in the terror of narcissistic abuse, watching everything I worked for my entire life going down the drain. I was deeply identified with material and outer aspects, believing these were my Identity. I clung to these things, desperately.
When I had my breakdown on my bathroom floor, I finally realised these things were not me and that what was me was the state of my soul. I realised that the gift in my breakdown was to lose all the illusions that I thought were me, to integrate with my soul and then build a real life from there.
Thank goodness I did that and now live life from the inside out.
If it wasn't for my letting go of all the toxic energy of fear, pain and emotional losses from narcissistic abuse and then starting to fill with Source, I would not have realised my incredible ecological connection to knowing that I'm flourished and nourished by Life and my Higher Power. It took me letting go and purposefully healing myself, to start experiencing Source and Life partnering with me too.
Before then my life has always been a 'disconnected struggle'.
I consistently see that when people healing to Thriverhood also do this – accept the truth of their situation, let go and start to fully heal – they quickly leave the terror behind and start moving forward into fearless and healthy trajectories.
And the narcissist becomes powerless to affect them.
Number 3 – Release the Terror Cellularly
Number 3 is always going to be my highest suggestion – because it works so powerfully. It is, however, very useful to know the other two tips beforehand otherwise you may wish to try to hang on to the terror.
This is normal – we have been led to believe terror keeps us safe, yet it doesn't. Terror that is left to run rampant inside you is causing all sorts of issues with your functioning. Fight, freeze and flee and the regular chemical doses of adrenalin and cortisol shut you off from the part of your brain that has contact with higher reasoning, your Higher Power, innate wisdom and the ability to attract and cogenerate support and miracle with the Field (Life).
Leaving the terror inside you means you are vibrating as emotional terror and you are metaphorically seeping blood out into shark infested waters. It feeds the narcissist energetically and psychically, allowing him or her to keep attacking you.
If you don't believe me, I can assure you I have seen the evidence when clients in session let go of the fear and pain, then immediately receive a text message from the narcissist whom that they may not have heard from in months.
Narcissists feel the drop of the feedline and often try to hook it up again.
Truly, the greatest goal is to RELEASE and go FREE of the terror.
It's when we do this that we understand the terror is not JUST what is happening right here and now. The narcissist has targeted and hit significant unhealed trauma in your body. Many of these were already there – including pre-birth.
These are unresolved wounds in your energy field that are epigenetic traumas (inherited from your ancestors), past life traumas (which are the unresolved abuse and fear patterns that have been going on lifetime to lifetime), and collective human traumas (those that are programmed into all of us as part of the human experience). Additionally, we have unresolved childhood traumas, that we experienced when very young, and all our accumulated adult, this-lifetime traumas, that we have suffered along the way.
When the terror hits via an effective catalyst – the present narcissist – these traumas get fully activated and resurface from our Inner Being. They can be so BIG and MULTIDIMENSIONAL that you can barely function.
It literally WIPES us out.
This is what happened to me, as I know it has to you too.
The trauma can be so overwhelming that THIS time, and maybe for the first time in our lives, it is now 'game over'. No matter how tough or strong we are, we just can't get up and get on with it anymore. Trauma, in the way of terror, has reached critical mass. We can no longer go forward without unpacking it.
Fortunately, I discovered that there are ways to go inside, load up and release this trauma cellularly so that we can finally live free of it – all of it. Not JUST this lifetime trauma, but all the accumulated traumas we have within us. Hence why there is an ability after narcissistic abuse, if we do the Quantum Inner Work, to Thrive more than we ever have previously.
People often ask on my blogs and in my YouTubes, 'Yes, but how do I heal?' Many of you have worked it out, but others still don't know.
This is the answer: we heal by releasing our traumas from within and replacing them with our Higher Power which is True Source. When this happens we break away from traumas, false beliefs and False Selves forever.
The tool to do exactly this is Quanta Freedom Healing, which is the energy healing component in the NARP Program which has ten specific healing Modules to completely purge you of the trauma of abuse – this life, multidimensional selves and epigenetic traumas – to set you free.
It's the exact work that I and countless other Thrivers in the Community used to heal. It literally healed within us, in many cases, what nothing else ever could or did.
You can learn more about this healing system and how to lose all your terror, pain, the susceptibilities to being abused, including the way you hand power away and all attachments, longings, obsessions and addictions towards any narcissist in your life, by signing up to my free 16-Day course.
And make sure that when you sign up that you enter my free workshop with me, which you will be notified about, because there you will get to experience a Quantum Healing for yourself, where literally together we shift terror and pain directly out of your cells. Many people report after my workshop instant relief – and I'd love you to feel this too.
So, to get started click this link.
I love how all of you are getting so involved in the intentions that you are sharing with me on my blog and YouTube comments, so how about today we say this – 'I'm Letting Go of the fear and the pain NOW'.
If you are with me – write that below!
Because it's time. It's your time to heal and be free and it's my life's mission to help you achieve this.
And if you want to see more of my videos, please subscribe so that you will be notified as soon as each new one is released. And if you liked this – click like. Also, please share with your communities so that we can help people awaken to these truths.
And as always, I'd love to answer your comments and questions below.
The following two tabs change content below.

Melanie Tonia Evans
is an international narcissistic abuse recovery expert. She is an author, radio host, and founder of Quanta Freedom Healing and The Narcissistic Abuse Recovery Program. Melanie's healing and teaching methods have liberated thousands of people from the effects of narcissistic abuse world-wide.

Latest posts by Melanie Tonia Evans (see all)