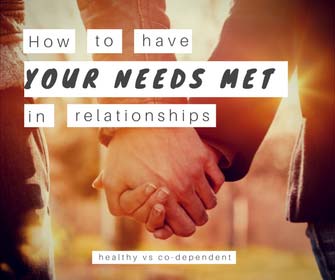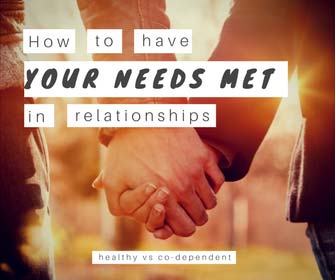 There is a very fine line after narcissistic abuse, when we start wanting and entering new relationships.
I believe for many of us who have done the work to heal our Inner Being …
… we may be literally terrified of being co-dependent again!
We know the horror and the terror – that was literally life-threatening – when we were enmeshed to a narcissist and had powerlessly relinquished virtually all the rights of our life to them.
And maybe, you are STILL struggling to not feel dependent on and entangled with someone who is presently hurting you.
Either way, of course it may be difficult to imagine how you could possibly generate a healthy relationship in the future.
In this Thriver TV episode, we explore the reasons why co-dependence isn't healthy, why we need to give it up, and how to assert your values and needs in relationships … so that rather than be co-dependent, you have the ability to generate a relationship which is this:
Evolutionary – one where you both share love, respect and trust and unite as a force that generates "more" for both of you!
And in this video, we investigate how in narcissistic relationships we did not have a voice …
… and how in healthy relationships we can be a cooperative force of Unity, who not only has one, but encourages open honest conversation for all involved.
Please note: There is also some information in this video for you, IF you are SO independent that you do struggle to lay down your defenses and connect lovingly with others.
If you have been wondering how to create and generate a healthy relationship where you can finally be SEEN and MET and SAFE … then this episode is definitely for you.
Please know … we are all in this together after narcissistic abuse … and the quandaries I talk about in this video are ONES that have challenged me greatly (and some still do).
I'd LOVE to hear from you in regard to your journey, growth … and of course any questions you may have regarding today's topic!
After watching this episode please share them in the comments section below.
(Visited 7,635 times, 6 visits today)
The following two tabs change content below.

Melanie Tonia Evans
is an international narcissistic abuse recovery expert. She is an author, radio host, and founder of Quanta Freedom Healing and The Narcissistic Abuse Recovery Program. Melanie's healing and teaching methods have liberated thousands of people from the effects of narcissistic abuse world-wide.

Latest posts by Melanie Tonia Evans (see all)